MSC Trough Screw Conveyors are designed for handling powdery or granular materials in flour mills.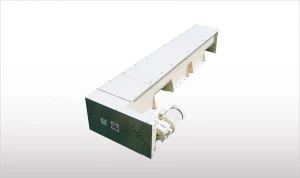 Their design, their special finishing grade, and the vast range of options and accessories take the requirements of the flour milling industry into particular consideration.
MSC Trough Screw Conveyors are a specialised version of the CA modular trough screw conveyor system. They are used in the flour milling industry, especially for conveying cereal grains, flour, and by-products such as bran. MSC Screw Conveyors are manufactured from carbon steel with food-grade surface finishing. They are made up of a U-shape trough equipped with at least one outlet spout, an end plate at each trough end, helicoid screw flighting welded on a centre pipe with coupling bush at each end, two end bearing assemblies complete with shaft seal, a number of intermediate hanger bearings with self-lubricating bushes depending on the overall length of the screw conveyor, as well as bolted trough covers. Furthermore, MSC Trough Screw Conveyors are equipped with a gear motor that suits the application.
MSC Trough Screw Conveyors come in a light-duty design only and they are available with ATEX, Zone 22 certification.