For grinding friable materials of medium hardness and abrasiveness, such as carbon coke, petroleum coke, calcium carbonate, dolomite, calcium oxide, magnesium oxide, gypsum and clays.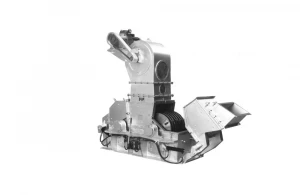 The CIMMA ROTODUE 4C hammer mill is suitable for producing air-classified powders with granulometry in the range 0 to 100÷300 μm, with d50 in the range 10÷40 μm.
Product fineness is easily adjustable by varying the speed of the dynamic air classifier, with speed controlled by inverter. The discharge of the product is pneumatic in air stream; therefore the mill is specially suitable for the operation with hot gases (drying-grinding process).
This allows a partial drying of moist materials during the grinding operatio that results in tremendous savings in operating costs and reduction of necessary space, when compared with plants where drying is made in separate equipment before grinding.
Typical applications
The main application fields are the production of filler of:
Calcium carbonate sub-100 μm
Calcium oxide
Low abrasive minerals
Talc
Gypsum
Barite
Magnesium oxide
Petroleum coke and/or coal 97% sub-90 μm, for plants using solid fuels
Clays for single-fired ceramic tiles
Construction features
Body: is made of welded steel plate of high thickness, fully protected inside by replaceable wear-resistant plates.
External bearings: grease-lubricated and enclosed in dust-tight supports.
Toothed grinding plates made of wear-resistant steel
Standard multi-disc rotor: hardox material with swinging hammers
Heavy-duty drum-type rotor: type XP with fixed hammers
Hammers: made of cast high-chromium alloy
Technical specifications