Silo venting filters
Tens of thousands of filters working worldwide, since first going into production in 1998.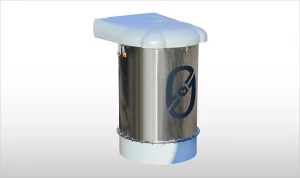 SILOTOP ZERO is a cylindrically shaped dust collector for venting pneumatically filled silos. Its stainless steel body contains vertically mounted POLYPLEAT elements made from ABSOLUTE filter media. The air jet cleaning system is integrated into the hinged weather protection cover.
Dust separated from the airflow by special ABSOLUTE POLYPLEAT filter elements drops back into the silo after an integrated automatic pulse-jet air cleaning system inside the weather protection cover has removed it from the filter elements.
---
Pressure relief valves
Even though ideally a Pressure Relief Valve should never have to go into action, it must be efficient and reliable if needed.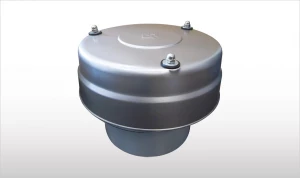 VCP Pressure Relief Valves consist of a cylindrical casing with a bottom flange to be connected with a spigot welded on the silo roof, a disc shape inner steel lid for negative pressure operation held in position by a central spring rod, an outside steel ring for excess pressure kept in position by three spring rods, gaskets, and a weather protection cover.
Helical springs keep the valve lids closed when the pressure value remains within the preset limits. The three outside spring rods keep the external ring-shaped lid firmly closed as long as the force generated by the pressure inside the silo does not overcome the spring force. Once the pressure exceeds the pre-set value the lid is pushed up and pressure can escape. The smaller lid covers the central circular opening of the external lid from below. It is held in the middle by a single spring rod and is pressed onto the external lid by the normal air pressure inside the silo.
In the event of suction pressure the spring is compressed and allows the lid to drop. The air entering the silo from outside ensures rapid pressure balance and pushes the central lid back up into "closed" position.
For applications in the food industry a version compliant with European Regulation (EC) No. 1935/2004 is available.
---
Bin level indicators
Easy-to-install, versatile, cost-effective and reliable level indication for bins and hoppers.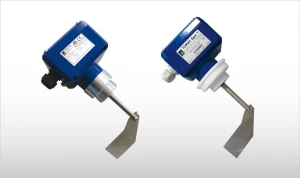 ILT-type Bin Level Indicators are designed for electric signalling by rotary action of minimum or maximum material level inside bins, hoppers or silos.
As soon as the material level reaches the measuring paddle rotation is blocked. As soon as the material level sinks below the paddle radius, rotation restarts activating other system components. The top or side-mounted indicators are commonly used for powdery and granular materials.
---
Bin activators
The BA excels by its seamless cone and its double-flanged, seamless gasket.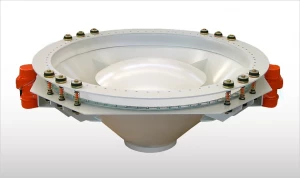 The BA Bin Activator is a device of tapered conical shape that, due to vibration, facilitates material flow from hoppers or silos. It consists of a seamless carbon or stainless steel cone manufactured on a sheet metal lathe, a seamless SINT engineering polymer seal with integrated upper and lower flange, suspensions for connection with the silo cone, as well as one or two electric OLI motovibrators.
To fit the BA Bin Activator, the silo cone has to be shorter than usual, leaving a wide outlet section. A flange supplied before or together with the Bin Activator is welded on the silo outlet cone on site. Special suspensions and a seamless, flanged SINT engineering polymer seal form a flexible connection between silo and Bin Activator. One or two electric OLI motovibrators fitted on the unit generate vibration of the Bin Activator every time the feeding device beneath the silo is started for feeding material. During operation the Bin Activator describes a gyratory movement which is transmitted to the material inside the silo. The result is smooth material flow through the Bin Activator outlet into the connected feeder.
BA Bin Activators are used in various industrial applications to facilitate discharge of powdery or granular materials from a silo or hopper. The use of this equipment ensures optimum feeding of the material according to a "mass flow" condition, thus avoiding bridging or rat holing phenomena.
---
Butterfly valves
VFS represents WAMGROUP's supremacy in bulk solids flow intercepting technology.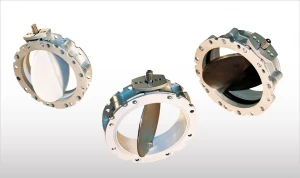 VFS Butterfly Valves consist of two high-pressure aluminium alloy die-cast semi-bodies, a SINT polymer composite or cast iron swivel disc, and a pre-stressed elastomer seal. For the food industry a version with stainless steel disc and an FDA/EN-approved, integral seal is available.
While V1FS has a top flange and beaded bottom section – suitable for the attachment of a flexible sleeve – V2FS comes with identical top and bottom flange.
To close silos, hoppers or bins containing powders or granules, VFS Butterfly Valves range among the most widely used equipment worldwide.
What used to be custom-built items for specific applications, WAM has turned into a mass-produced, industrial product with features that allow extremely versatile use.
VFS Butterfly Valves are used in all types of powder and granular material processing plants where interception of gravity-fed or pneumatically conveyed dry materials is required. They are fitted beneath hoppers, bins, silos, screw or other type conveyors, or to intercept pneumatic conveying ducts. Due to their special design and engineering materials used, they represent a particularly cost-effective yet most efficient solution.
---
Slide valves
Reliable, versatile, and durable in use with powdery or granular materials.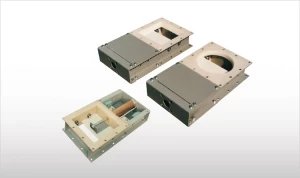 The increased use of WAM's special SINT engineering polymer in designing the VL range makes these Slides Valves the ideal equipment for intercepting the flow of powdery or granular materials in gravity or conveying applications.
VL-type Slide Valves consist of a two-piece carbon or stainless steel frame partly coated with WAM's SINT engineering polymer composite, as well as a sliding blade manufactured from SINT engineering polymer, carbon steel or stainless steel. The use of the unique SINT engineering polymer composites considerably increases resistance to abrasion as compared to traditional valves. Moreover, it avoids the use of flange gaskets.
VL Slide Valves are available in a variety of configurations including rectangular sizes. In the VLQ version the valves come with a square, in the VLC version with a circular open cross section, whereas in the VLR-version it is rectangular. The VLS version with square cross section has a pneumatic actuator integrated in its frame.
VL Slides Valves are used where flow of a powdery or granular material caused by gravity or conveying has to be intercepted. Slide valves may be fitted on a hopper or silo outlet, on inlets and outlets of mechanical conveyors, as well as on the inlet of telescopic loading spouts. For conveyor outlets in particular, the VLS version with integrated pneumatic actuator is a valid option due to its compact overall dimensions.
The special geometry of VL Slide Valves and the various options in blade design enable their application in virtually all industries including food processing.
---
Aeration pads
Trouble-free material flow from silos, bins or hoppers with a variety of powdery materials.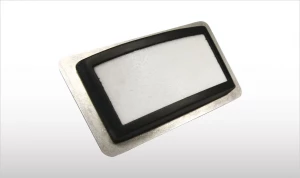 I100 Aerator Pads are a low-cost solution which ensures trouble-free material flow from silos, bins or hoppers with a variety of powdery materials. They can be easily mounted and retrofitted in existing plants.
Due to the semi-convex shape of the durable polymer pad, air is given off with a wide emission angle across the entire white filter surface.
Low pressure aeration or fluidisation prevents rat-holing, bridging, segregation or material residues at the bottom of the silo cone.
I100 Aerator Pads excel thanks to a lightweight, yet robust and reliable engineering polymer casing and filter design. In a single row installation, they are widely used for materials such as cement and similar materials. More sophisticated applications with alternately-fed multiple rows can be used for lime storage and dosing plants in which fluidisation is used not only during discharging of the silo but also to keep the material in motion during extended periods of storage.
A rectangular, external mounting kit is available for easily fitting or retrofitting batching plants.
---
Vibro-aerators
An important step ahead in aeration technology, with superior versatility across various powdery materials.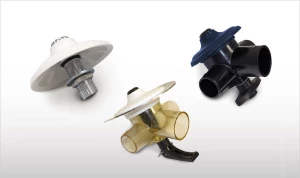 The unique, patented UNIDIRECTIONAL AIR FLOW Tramontana® technology is included in the 2014 VB-series. The VBS Quick Flow ("S" standing for application on SILOS) has been fully reviewed in order to satisfy current market needs.
Along with a variety of membrane materials, the new design has considerably improved the performance of OLI Vibro-Aerators. An important step ahead in aeration technology, the VB-series meets virtually every user's requirements in terms of versatility in use for various powdery materials, protection of the environment and temperature range. Lower operating pressure and reduced air consumption are the main benefits.
An external mounting kit makes the VB-series interchangeable with aerator pads which are commonly used in mobile batching plants.
The Mini-VB series, for both internal and external assembly, completes this product line.
VBT Quick Flow ("T" standing for trailer application) completes the range as an innovative solution for Bulk Tanker Trailers.
The entire VBT line is food-grade and UL94-compliant. These Aerators are manufactured from high-tech polymer suitable for environmental conditions ranging from extremely hot to extremely cold.
Laboratories and field test have given proof of high efficiency in terms of reduction of tanker unloading time of around 20%, depending on the type of powder.
VBT Quick Flow is completely interchangeable with other aerator makes currently present on the market.
---
Drop-through rotary valves
Controlled discharging and feeding of powdery or granular materials from silos, hoppers, pneumatic conveying systems, bag filter houses, or cyclones.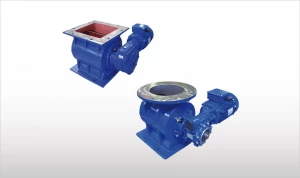 RV Drop-Through Rotary Valves with square and RVR with circular inlet consist of a tubular cast iron or stainless steel casing, a horizontally mounted rotor with a certain number of V-shaped cross section compartments, a drive unit and a casing cover opposite the drive end.
RV/RVR Rotary Valves are designed for maximum versatility in application. They are suitable for controlled discharging and feeding of powdery or granular materials from silos, hoppers, pneumatic conveying systems, bag filter houses, or cyclones.