Batch-type single-shaft mixers
The ideal machine to obtain highest quality mixtures in perfectly reproducible batches.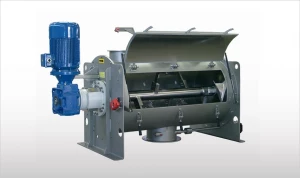 In the last three decades, WAMGROUP's MAP division has supplied thousands of mixers to a large variety of industries worldwide. Mixing tests for customers are performed in the Group's own laboratories in currently more than fifteen countries.
WBH Horizontal Single Shaft Batch Mixers consist of a mixing drum vessel with an inlet, an outlet with discharge valve and a venting spout, a full material mixing shaft, two drum closing end plates that carry flanged end bearing assemblies complete with integrated air or gas-purged shaft seals, and a drive unit complete with power transmission.
Ploughshare or inclined blade-type shovel tools rotate as mixing tools in a special arrangement on the mixer shaft in a horizontal, cylindrical drum vessel. The result is a turbulence in the mix that constantly involves all the product particles in the mixing process. The formation of dead spots or slow-movement zones in the mixing drum is prevented ensuring precise mixing. In some cases, to obtain the desired mixing effect, separately driven high-speed choppers can be installed.
The WBH Horizontal Single Shaft Batch Mixer is based on the principle of mechanical fluidisation of the product.
The particular shape, position and rotation speed of the mixing tools, creates a centrifugal vortex motion which allows the materials to be projected in a three-dimensional way and to merge with each other. This ensures that ingredients with different particle size and bulk density are perfectly blended and mixed with high precision within the shortest possible time.
WBH Batch-type Mixers are used for mixing dry powders, granules or short fibres, for moistening, agglomerating or granulating the same materials, or for mixing liquids or low viscosity pastes.
---
Batch-type single-shaft mixers with bomb-bay discharge
Ensure instant product discharge with residue of less than 0.1% (depending on the product mixed).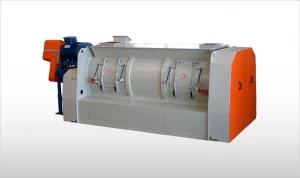 In addition to the features of standard WBH mixers, the WBHP and WBHT-type ensure instant product discharge with residue of less than 0.1% depending on the product mixed. A bomb-bay discharge is mandatory where discharge time has to be reduced to the minimum.
Bomb-Bay Discharge Batch Mixers of the WBHP type with 15° opening cross section and the WBHT type with a 60° opening satisfy any customer's requirements in terms of high quality mixing in batch-type processes oriented towards optimised efficiency. An outlet opening over the entire length of the mixing drum ensures almost residue-free discharge of the product in the shortest possible time.
WBHP / WBHT Bomb-Bay Discharge Batch Mixers are the appropriate mixing machines for virtually all industries (building and construction, food, animal feed, chemicals, etc.) where the highest possible mixing quality and optimum productivity are required.
---
Micro-batch feeders for volumetric feeding
Particularly suitable for feeding poorly flowing powders and granular materials that tend to clog.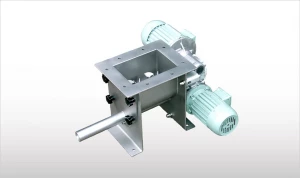 The MBF Micro-Batch Feeder for continuous volumetric feeding of powdery or granular materials consists of a steel-reinforced SINT engineering polymer body (optionally body entirely manufactured from stainless steel), a horizontally mounted rotating agitator tool, a feeder screw beneath the agitator tool, a feeder pipe enclosing the protruding feeder screw, one drive unit each for agitator and feeder screw.
Tests on product flow and material stress were carried out to establish optimum body geometry. Agitator and feeder tool geometry and materials were tested, too, before choosing an optimal steel and SINT engineering polymer composite.
On request, MBF series Micro-Batch Feeders are supplied in food-grade versions with both FDA and EN approval.
---
Cylindrical dust collectors
The result of WAM's decades of experience in dust filtration technology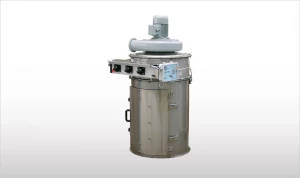 The WAMFLO Dust Collector range is the result of WAM's decades of experience in dust filtration technology. Since it went into production shortly after the turn of the millennium, tens of thousands of units have left the Group's manufacturing plants all over the world. In diverse configurations WAMFLO has proved to be suitable for a variety of applications in virtually all industries.
WAMFLO Dust Collectors are equipped with a cylindrically shaped stainless steel body and flanged bottom ring which contains vertically mounted filter elements of various types including the high efficiency POLYPLEAT. An air jet filter element cleaning system is integrated in the hinged top cover. WAMFLO Dust Collectors are available with or without suction fan. As an option for applications with top-mounted suction fan or in case of limited headroom, WAMFLO can be equipped with a large front door which facilitates access to the filter elements in case of inspection or maintenance. In the food-grade version WAMFLO comes in a zero dust residue design. WAMFLO is supplied with an integrated modular electronic panel able to manage cleaning cycles according to the specific requirements of the work process. It is suitable for operation in explosive environments.