Dust filters
Silo venting filters
Tens of thousands of filters working worldwide, since first going into production in 1998.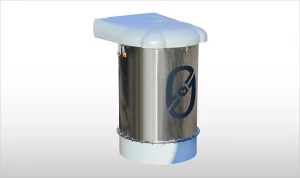 SILOTOP ZERO is a cylindrically shaped dust collector for venting pneumatically filled silos. Its stainless steel body contains vertically mounted POLYPLEAT elements made from ABSOLUTE filter media. The air jet cleaning system is integrated into the hinged weather protection cover.
Dust separated from the airflow by special ABSOLUTE POLYPLEAT filter elements drops back into the silo after an integrated automatic pulse-jet air cleaning system inside the weather protection cover has removed it from the filter elements.
---
Flanged round dust collectors
The result of WAM's decades of experience in dust filtration technology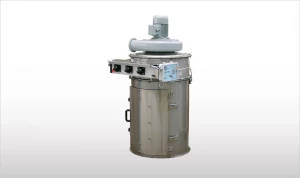 The WAMFLO Dust Collector range is the result of WAM's decades of experience in dust filtration technology. Since it went into production shortly after the turn of the millennium, tens of thousands of units have left the Group's manufacturing plants all over the world. In diverse configurations WAMFLO has proved to be suitable for a variety of applications in virtually all industries.
WAMFLO Dust Collectors are equipped with a cylindrically shaped stainless steel body and flanged bottom ring which contains vertically mounted filter elements of various types including the high efficiency POLYPLEAT. An air jet filter element cleaning system is integrated in the hinged top cover. WAMFLO Dust Collectors are available with or without suction fan. As an option for applications with top-mounted suction fan or in case of limited headroom, WAMFLO can be equipped with a large front door which facilitates access to the filter elements in case of inspection or maintenance. In the food-grade version WAMFLO comes in a zero dust residue design. WAMFLO is supplied with an integrated modular electronic panel able to manage cleaning cycles according to the specific requirements of the work process. It is suitable for operation in explosive environments.
---
Polygonal dust collectors
Since 1990 widely recognized as the most versatile and compact dust collector range.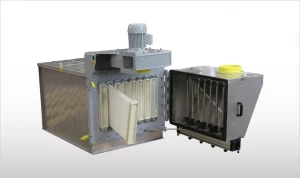 WAMAIR Dust Collectors consist of a polygonally shaped 304 stainless steel casing, horizontally or vertically inserted filter elements, and a reverse air jet cleaning system integrated in the hinged front easy access door. WAMAIR Dust Collectors are either built in for venting applications or come as a stand-alone unit with dust collecting hopper. Versions with an integrated fan are available for suction applications.
WAMAIR Dust Collectors separate dust from the air flow by means of pocket-type or special POLYPLEAT filter elements. Dust drops down after a programmable, automatic reverse air jet cleaning device integrated in the access door has removed it from the filtering elements. By opening the access door the operator can easily and safely remove the filtering elements from the clean air side. The dirty air flow may enter the filter casing from the top inlet flange where heavier particles are subsequently pre-separated while the flow is on its descent. Alternatively, dirty air may enter from the bottom flange which can be either connected to a PT-type WAM hopper or to the device to be de-dusted (silo, belt conveyor, bucket elevator, chain conveyor, etc.).
ATEX-versions for Zone 22 (Category 3D) and Zone 21 (Category 2D) are available. All ATEX versions are suitable for application in internal Zone 20.
---
Hopper venting filters
A compact filter for hopper venting, with advanced dust filtration technology resulting in low emission values.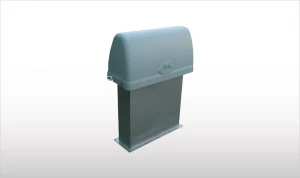 HOPPERJET is a polygonally-shaped, small-footprint venting filter for installation on mechanically-filled hoppers, such as intermediate-storage hoppers or weigh hoppers.
Dust is separated from the air flow by a single POLYPLEAT or bag-type filter element and drops back into the hopper after an integrated automatic reverse air jet cleaning system inside the weather protection cover has removed the dust particles from the filter elements.
Vibrators and flow aids
External electric motovibrators
The standard range of MVE is suitable for all kinds of vibrating equipment.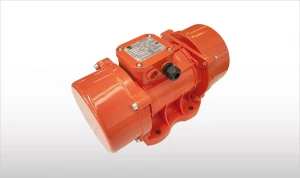 he motovibrators come with single phase, tree-phase or DC motor with ATEX ExII3D and ETL, Class II, Division 2 certification for application in the presence of potentially flammable dusts in hazardous environments.
MVE External Electric Motovibrators consist of an electric motor housed in a sturdy FMEA-designed cast casing, with eccentric weights fitted on both shaft ends.
MVE External Electric Motovibrators can be used as flow aids, on hoppers or silos to improve material discharge, or as drives on vibrating machines for several purposes such as conveying, screening, sizing, or compacting in a variety of industries.
When the MVE is switched on, a sinusoidal centrifugal force is provided by rotation of the eccentric weights. With only one MVE fitted on a vibrating machine a rotating force is provided resulting in a circular movement of the machine. Two counter-rotating MVE fitted in parallel on the same machine provide a linear force resulting in a linear movement of the machine. The requirement of circular or linear movement depends on the application.
---
Rotary turbine vibrators
Compliant with ATEX EX II 2DG cT(x), the OT-series is suitable for explosive environments.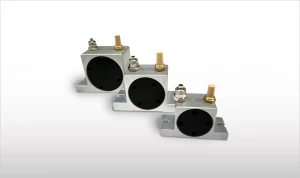 Operation is silent at a working pressure ranging from 2 to 6 bar (29 ~ 87 psi) and a working temperature up to 120 °C (250 °F).
With OT-series Rotary Turbine Vibrators, vibration is generated by a turbine fitted with eccentric weights.
The OT-type generates very low-amplitude, high-frequency vibration. Higher speed than with ball-type roller-type rotary vibrators makes the OT a high-performance equipment.
Due to its classification the OT-type is suitable for lines, compacting, formwork, as well as aiding material flow in chutes. The force generated is higher than that of the ball-type, whereas operating noise is lower.
OT-series Turbine Vibrators, which are manufactured from a silver-grey aluminium casing with a black cover, are available in twelve different sizes.
---
Single-impact pneumatic hammers
Patricularly suitable for retrofitting existing cones or hoppers; drilling of the wall is not required.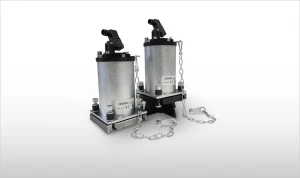 MARTSHOCK PS Single Impact Pneumatic Hammers produce a shockwave generated by a single impact of an internal piston on the metallic base welded on the , or wall. This action is particularly efficient if the powder at issue tends to pack under pressure or stick to the or wall. Moreover, MARTSHOCK PS is an efficient solution against bridging or rat-holing problems.
MARTSHOCK PS Single Impact Pneumatic Hammers are particularly suitable retrofitting existing cones or hoppers since of the or drilling of the wall is not required.
Operation should be intermittent at a pressure ranging from 3 to 6 bar (44~87 psi).
When operating multiple hammers, those at the bottom should be activated first, moving progressively upwards at regular intervals to the remaining ones.
MARTSHOCK PS robust design is suitable both outdoor indoor application. External body parts are manufactured from galvanized steel POM.
MARTSHOCK PS are supplied with a mounting plate, which has to be welded on the or wall, as well as a safety chain preventing accidental dropping during installation or maintenance.
To satisfy all market demands, MARTSHOCK PS is available in three different sizes.
---
Vibro-aerators
An important step ahead in aeration technology, with superior versatility across various powdery materials.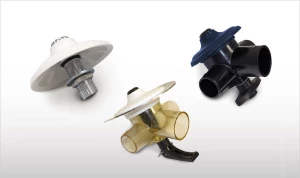 The unique, patented UNIDIRECTIONAL AIR FLOW Tramontana® technology is included in the 2014 VB-series. The VBS Quick Flow ("S" standing for application on SILOS) has been fully reviewed in order to satisfy current market needs.
Along with a variety of membrane materials, the new design has considerably improved the performance of OLI Vibro-Aerators. An important step ahead in aeration technology, the VB-series meets virtually every user's requirements in terms of versatility in use for various powdery materials, protection of the environment and temperature range. Lower operating pressure and reduced air consumption are the main benefits.
An external mounting kit makes the VB-series interchangeable with aerator pads which are commonly used in mobile batching plants.
The Mini-VB series, for both internal and external assembly, completes this product line.
VBT Quick Flow ("T" standing for trailer application) completes the range as an innovative solution for Bulk Tanker Trailers.
The entire VBT line is food-grade and UL94-compliant. These Aerators are manufactured from high-tech polymer suitable for environmental conditions ranging from extremely hot to extremely cold.
Laboratories and field test have given proof of high efficiency in terms of reduction of tanker unloading time of around 20%, depending on the type of powder.
VBT Quick Flow is completely interchangeable with other aerator makes currently present on the market.