"In most industrial situations, powders and bulk solids have to be stored in and discharged from bins and silos. This can result in – often unexpected – problems, e.g., flow obstructions or segregation. Most of these problems can be avoided by proper design of equipment with respect to the flow properties of the bulk material to be stored. Especially important is the design of the hopper and all downstream equipment (e.g., feeder) having an influence of the flow in the hopper."
---
FIBC dischargers make it easier to empty "big bags"
SBB-HFF FIBC Dischargers are the ideal stationary systems for FIBC discharging.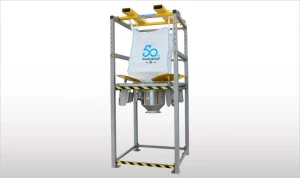 Its design guarantees safe and handy loading, unloading and bulk bag opening operations. The innovative flow aiding petal system grants unparalleled efficiency and easy, cost-saving operation even with materials difficult to discharge.
The bulk bag loading interface is the core of a system designed to grant easy, healthy and safe access while connecting the bulk bag valve. This interface allows hermetical powder sealing and flow filtering in order to avoid product leaks and contamination. The hopper allows material buffering.
---
Manual bag openers help to control dust when dumping bags
Compact, user-friendly, maintenance-friendly dust-controlled bag dumping.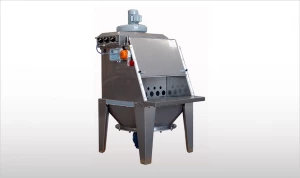 Produced in large series, the RSM Manual Bag Opener shows an industrial design as a result of in-depth assessment of user requirements in a number of industries.
The RSM Manual Bag Opener consists of a grille with a rest fitted on its front. The grille is mounted on top of a hopper which is supported by four feet. A fabricated hood with protection door fitted on its front covers the hopper and grille. RSM Bag Openers are manufactured from high-finish-grade materials and come with or without integrated de-dusting filter unit. In the version with integrated dust filter the filter elements are pneumatically cleaned by reverse air jet.
The operator puts the bag on the rest and pushes it on to the grille. He then slits the bag open with a vertical cut and shakes it empty. While the bag content may be discharged through a hopper or by BINSWEEP, a special rotary discharging device, into any type of feeder, the built-in fan operated, air jet cleaned dust collector filters the dust generated during emptying. The empty bag is dropped into the chute on the side which leads into the optional COM Waste Bag Compactor (see COM).
Manual RSM Bag Openers are designed to minimise material residue. They satisfy a large number of applications due to their modular component design.
---
Bin activators make bulk solids flow easily out of silos
The BA excels by its seamless cone and its double-flanged, seamless gasket.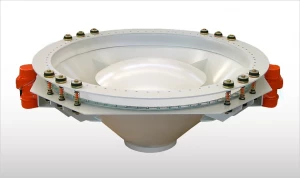 The BA Bin Activator is a device of tapered conical shape that, due to vibration, facilitates material flow from hoppers or silos. It consists of a seamless carbon or stainless steel cone manufactured on a sheet metal lathe, a seamless SINT engineering polymer seal with integrated upper and lower flange, suspensions for connection with the silo cone, as well as one or two electric OLI motovibrators.
To fit the BA Bin Activator, the silo cone has to be shorter than usual, leaving a wide outlet section. A flange supplied before or together with the Bin Activator is welded on the silo outlet cone on site. Special suspensions and a seamless, flanged SINT engineering polymer seal form a flexible connection between silo and Bin Activator. One or two electric OLI motovibrators fitted on the unit generate vibration of the Bin Activator every time the feeding device beneath the silo is started for feeding material. During operation the Bin Activator describes a gyratory movement which is transmitted to the material inside the silo. The result is smooth material flow through the Bin Activator outlet into the connected feeder.
BA Bin Activators are used in various industrial applications to facilitate discharge of powdery or granular materials from a silo or hopper. The use of this equipment ensures optimum feeding of the material according to a "mass flow" condition, thus avoiding bridging or rat holing phenomena.
---
Vibro-aerators make it easier to unload bins or hoppers
An important step ahead in aeration technology, with superior versatility across various powdery materials.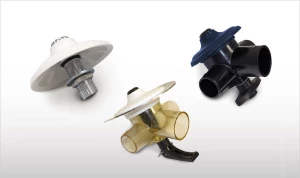 The unique, patented UNIDIRECTIONAL AIR FLOW Tramontana® technology is included in the 2014 VB-series. The VBS Quick Flow ("S" standing for application on SILOS) has been fully reviewed in order to satisfy current market needs.
Along with a variety of membrane materials, the new design has considerably improved the performance of OLI Vibro-Aerators. An important step ahead in aeration technology, the VB-series meets virtually every user's requirements in terms of versatility in use for various powdery materials, protection of the environment and temperature range. Lower operating pressure and reduced air consumption are the main benefits.
An external mounting kit makes the VB-series interchangeable with aerator pads which are commonly used in mobile batching plants.
The Mini-VB series, for both internal and external assembly, completes this product line.
VBT Quick Flow ("T" standing for trailer application) completes the range as an innovative solution for Bulk Tanker Trailers.
The entire VBT line is food-grade and UL94-compliant. These Aerators are manufactured from high-tech polymer suitable for environmental conditions ranging from extremely hot to extremely cold.
Laboratories and field test have given proof of high efficiency in terms of reduction of tanker unloading time of around 20%, depending on the type of powder.
VBT Quick Flow is completely interchangeable with other aerator makes currently present on the market.
---
Continuous impact vibrators solve bridging or rat-holing
Typically P-series vibrators are used wet or electrostatics powders such as clay, sludge or manure.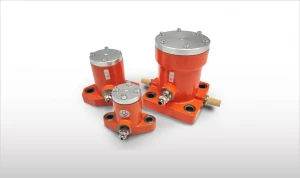 P-Series Continuous Impact Vibrators produce a shockwave generated by the continuous impact of their internal piston on the metallic base mount welded on the or wall.
They are particularly efficient with bulk materials that tend to stick to the wall.
P-Series Continuous Impact Vibrators help solving problems such as formation of incrustations, bridging or rat-holing, operating continuously applying intermittent blows on the or at a pressure ranging from 2 to 6 bar (29 ~ 87 psi).
When operating multiple impact vibrators, those at the bottom should be activated first, moving progressively upwards at regular intervals to the upper ones.
The robustness of the P-series design makes these vibrators suitable both outdoor indoor application, as well as high temperatures of up to 200 °C (390 °F).
The external body parts are manufactured from aluminium from powder-coated (RAL 2009) grey cast iron.
P-Series vibrators are assembled on a base mounting plate (not supplied) which has to be welded on the , or wall. It is recommended to fix a safety chain to the vibrator to avoid accidental dropping during installation or maintenance.
To satisfy all market needs three sizes are available.
---
FIBC filling systems make it easier to fill "big bags"
Compact, easy-to-install, and completely dust-free filling even with compacted powders.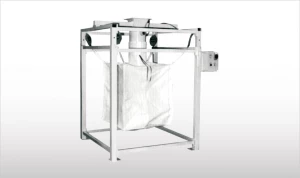 RBB-type FIBC Filling Stations consist of a steel frame and a bag filling unit including an inflatable seal that impedes dust leakage during filling.
RBB-type FIBC Filling Stations enable efficient filling of bulk bags. The empty FIBC is attached to the four stretchers in the upper corners of the frame. Then the bag inlet is pulled over the loading spout of the station. Filling starts as soon as the seal around the bag inlet is inflated. Once the FIBC is filled up it is lifted by a forklift truck, removed from the steel frame and transferred to its further destination.