Screw feeders for highly efficient feeding
SU-type Screw Feeders match the shape of the silo outlet. The trough section is coupled to a tubular section for efficient material feeding towards further processing.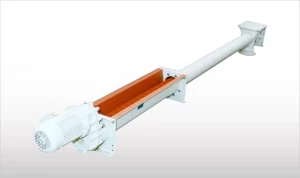 Some powders or granular materials are so poorly flowing that they cannot be stored in silos with a circular outlet cone requiring storage in silos with a steeper cone and an oblong outlet opening.
According to the cross section of the silo outlet, SU-type Single Shaft Screw Feeders are available with standard U-shaped or with flared V-section trough. In a light-duty version, SU-Feeders are used for flour and materials with similar bulk density and properties. For animal feed and similar products a heavy-duty version is available.
SU Screw Feeders are available with ATEX, Zone 22 certification.
---
Live bin bottoms to accelerate bin discharge
The ideal solution for discharging particularly difficult materials from polygonal hoppers or silos.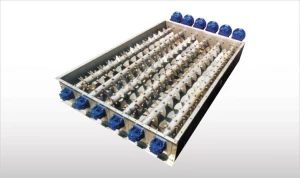 Among others, MU Live Bin Bottoms are used for extracting biological or industrial sludge, paper scrap, wood chippings, sawdust, as well as flour or bran in the flour milling industry.
MU Live Bin Bottoms (Multiple Screw Feeders) are equipped with a modular trough which encloses up to 6 shafted helicoid flight or paddle screws, externally flanged, fully protected end bearing assemblies complete with manually adjustable packing gland and shaft seal, a rectangular outlet spout covering the entire width of the bin bottom, bolted end plates, splined shaft couplings for medium heavy-duty, and flanged shaft couplings for the heavy-duty version.
Furthermore, MU Live Bin Bottoms are equipped with one gear motor per screw shaft or, depending on the application, with a drive unit driving more screws.
---
Micro-batch feeders for volumetric feeding
Particularly suitable for feeding poorly flowing powders and granular materials that tend to clog.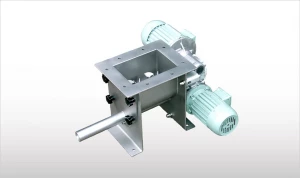 The MBF Micro-Batch Feeder for continuous volumetric feeding of powdery or granular materials consists of a steel-reinforced SINT engineering polymer body (optionally body entirely manufactured from stainless steel), a horizontally mounted rotating agitator tool, a feeder screw beneath the agitator tool, a feeder pipe enclosing the protruding feeder screw, one drive unit each for agitator and feeder screw.
Tests on product flow and material stress were carried out to establish optimum body geometry. Agitator and feeder tool geometry and materials were tested, too, before choosing an optimal steel and SINT engineering polymer composite.
On request, MBF series Micro-Batch Feeders are supplied in food-grade versions with both FDA and EN approval.
---
Rotary valves for accurate feeding
A highly efficient solution for accurate feeding of powders or granules in a number of industries.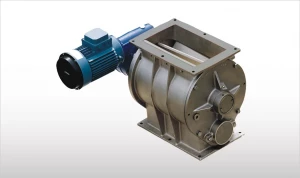 RVC Drop-Through Rotary Valves consist of a tubular cast iron or stainless steel casing, a horizontally mounted rotor with a certain number of oblique V-shaped cross section compartments, a drive unit and casing covers at both ends.
Two compartments at a time of the continuously turning rotor are filled up with material entering through the inlet at the top of the Rotary Valve. After less than half a turn material falls through the bottom outlet opening having the same cross section as the opposite inlet.
---
Slide valves for flow interception and material flow control
The particular asymmetrical geometry of the blade enables flow adjustment that enables volumetric feeding (within certain limits).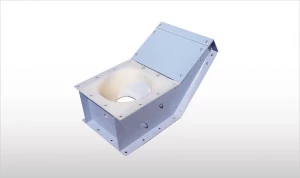 The inclined blade of the VDI Inclined Slide Valve forms an eye-shaped aperture with the asymmetrically tapered inner body. The wider the eye is opened, the more material flows through, the further it is closed the more the material flow is reduced.
The inner body consists of a self-supporting SINT engineering polymer composite cast. The blade is manufactured from carbon or stainless steel. The valve can be operated manually, pneumatically or by electric gear motor. Intermediate blade positions instead of a complete opening are obtained through position sensors. To enforce material flow at low flow rates the dustproof VDI valve can be equipped with an additional pneumatic hammer that imparts repetitive percussions to the internal valve body during operation.
VDI Inclined Slide (Feeder) Valves add to the simple function of material flow by gravity interception the ability to control the material flow. The particular asymmetrical geometry of the blade enables flow adjustment adding, within certain limits, volumetric feeding properties to the unit. VDI valves can be mounted on the outlet of hoppers, tanks, silos, screw conveyors, or on the inlet of loading bellows. Due to the different blade options they are used virtually in all industries, food-grade applications included.
---
Lump-breaking feeder valves to prevent clogging
Safe and smooth segregation of bulk materials that tend to pack and form lumps during production and/or storage.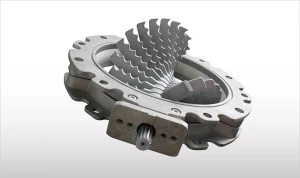 The design of the LBC Lump-Breaking Feeder Valve favors gentle crushing even with hardened material under a medium-high material column.
The device consists of a solid cylindrical body with inlet and outlet flange, an integrated crushing tool driven by a side-located electric motor and a rigid grid. To adjust to the required particle size both blades and grid are easily removable to be adapted according to the desired material characteristics,
The Lump Breaking Feeder Valve is fed with agglomerated solids which, after being crushed are discharged through the outlet towards further processing. The LBC is the ideal solution to break up snow-ball-like materials. It is particularly suitable for hygroscopic materials and those that are compacted under pressure, such as sugar, salt, silicates, chemicals, and food products in general. The LBC Lump Breaking Feeder Valve can be fitted in loading and/or discharging pipes, for emptying or filling drums, bins, or screw conveyors.
---
External electric motovibrators to facilitate material flow
The standard range of MVE is suitable for all kinds of vibrating equipment.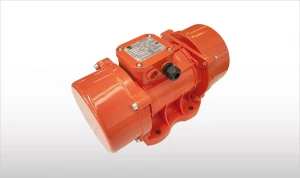 he motovibrators come with single phase, tree-phase or DC motor with ATEX ExII3D and ETL, Class II, Division 2 certification for application in the presence of potentially flammable dusts in hazardous environments.
MVE External Electric Motovibrators consist of an electric motor housed in a sturdy FMEA-designed cast casing, with eccentric weights fitted on both shaft ends.
MVE External Electric Motovibrators can be used as flow aids, on hoppers or silos to improve material discharge, or as drives on vibrating machines for several purposes such as conveying, screening, sizing, or compacting in a variety of industries.
When the MVE is switched on, a sinusoidal centrifugal force is provided by rotation of the eccentric weights. With only one MVE fitted on a vibrating machine a rotating force is provided resulting in a circular movement of the machine. Two counter-rotating MVE fitted in parallel on the same machine provide a linear force resulting in a linear movement of the machine. The requirement of circular or linear movement depends on the application.