SBB-HFF FIBC Dischargers are the ideal stationary systems for FIBC discharging.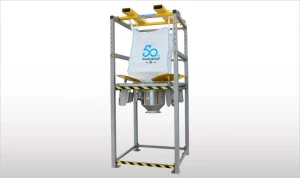 Its design guarantees safe and handy loading, unloading and bulk bag opening operations. The innovative flow aiding petal system grants unparalleled efficiency and easy, cost-saving operation even with materials difficult to discharge.
The bulk bag loading interface is the core of a system designed to grant easy, healthy and safe access while connecting the bulk bag valve. This interface allows hermetical powder sealing and flow filtering in order to avoid product leaks and contamination. The hopper allows material buffering.