Compact, easy-to-install, and completely dust-free filling even with compacted powders.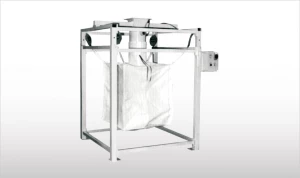 RBB-type FIBC Filling Stations consist of a steel frame and a bag filling unit including an inflatable seal that impedes dust leakage during filling.
RBB-type FIBC Filling Stations enable efficient filling of bulk bags. The empty FIBC is attached to the four stretchers in the upper corners of the frame. Then the bag inlet is pulled over the loading spout of the station. Filling starts as soon as the seal around the bag inlet is inflated. Once the FIBC is filled up it is lifted by a forklift truck, removed from the steel frame and transferred to its further destination.