WAMGROUP® launches a new product family for volumetric feeding of materials.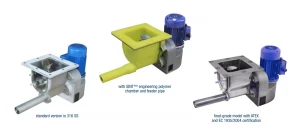 The special design of the 316 stainless steel body of WAMGROUP's new easy-to-clean volumetric micro-batch feeder ensures perfect emptying of the feeder chamber and time-saving cleaning in case of change of product material. In combination with its oil-free gearbox unit and food-grade materials, the design features of this feeder make it the ideal solution for food processing and any other application where frequent cleaning of the machine is required. The MBH is particularly suitable for poorly-flowing materials which tend to clog, as well as for adhesive materials.
The MBH micro-batch feeder uses molded composite components and modular design features to optimise production costs and delivery time. Available for feed rates of up to 800 dm³/h, the patented MBH-type micro-batch feeder features a variety of metering tools in different designs to achieve an accuracy of ±1~2%. On request, MBH micro-batch feeders are supplied in ATEX-certified or food-grade versions. If accurate weigh-feeding is required, the MBH can be supplied with platform scales, thus becoming a loss-in-weight feeding system. Depending on the user's individual requirements, MBH Micro-batch Feeders can be supplied with alternative feeder screw and blending tool options along with various accessories.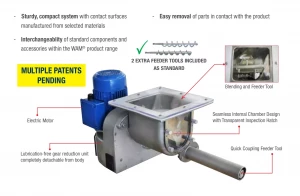 WAMGROUP's more than 50 years of experience in feeding and metering solids has resulted in so far more than 20.000 high performance micro-batch feeders (such as the MBF) delivered worldwide.
Despite featuring the same operating principle as the heavy-duty MBF, MBH micro-batch feeders represent a significant engineering evolution. They have been developed and tested in close cooperation with customers handling powders and bulk solids such as food, animal feed, construction materials, plastics, chemicals, packaging materials, as well as in incinerators, and in environmental technology applications, such as in dosing systems of lime and polyelectrolytes for water treatment.