The modular TU Tubular Screw Conveyor and Feeder system is highly versatile, offering a variety of standard solutions for handling of powdery or granular materials.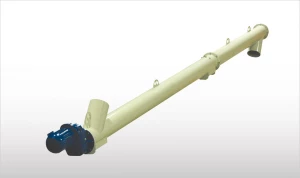 Different models of conveyors or feeders are available in applications such as concrete production (for fly-ash, filler dust, silica fume), premixed building materials (dry plasters, sand, cement, additives), glass processing (calcium carbonate, soda, sand, etc.), foundries (sand, bentonite), and many others.
TU Screw Conveyors and Feeders are manufactured from carbon steel with suitable surface finishing. They consist of a tubular trough equipped with at least one inlet and outlet spout, a welded flange at each tube end, helicoid screw flighting welded on a centre pipe with a coupling bush at each end, two end bearing assemblies complete with self-adjusting shaft seal, a number of intermediate hanger bearings depending on the overall length of the screw conveyor. Furthermore, TU Tubular Screw Conveyors are equipped with a gear motor appropriate for the application.
TU Tubular Screw Conveyors come in a medium heavy-duty design only.
TU Screw Conveyors are available with ATEX, Zone 22 certification.