Reliable, versatile, and durable in use with powdery or granular materials.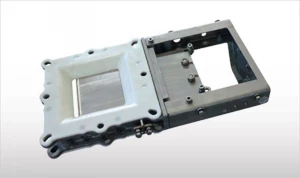 The wide use of WAM's special SINT engineering polymer and an innovative design geometry make these Low Profile aluminium Slides Valves the ideal solution for intercepting the flow of powders, flakes or granular materials in gravity or conveying applications. A food-grade version in compliance with Regulation (EC) No. 1935/2004 matches requirements from the high end of the industry.
The low-profile VIB Slide Valves consist of two high pressure die-cast semi-bodies manufactured from aluminium alloy, a sliding blade in carbon or stainless steel, a carbon or stainless steel frame and a pre-stressed elastomeric seal manufactured from WAM's unique SINT engineering polymer composite.
The use of SINT engineering polymer composites considerably increases resistance to abrasion as compared to traditional valves. The valves are equipped with live-loaded seals which ensure extended durability and wear resistance, providing excellent sealing across the entire valve surface. Additional flange gaskets are not required.
VIB Slide Valves are available in a variety of configurations: the VIBQ version comes with a square inlet; the VIBC-type has a circular open cross section.
For the food industry a version with stainless steel blade and frame, as well as food-grade seal is available.