VAS ATEX Plug Diverter Valves are used in both positive and negative pressure pneumatic conveying lines with explosive atmospheres.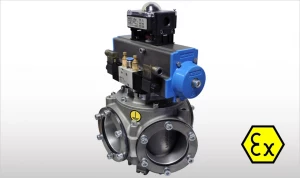 The VAS ATEX plug diverter valve is a variant of the popular VAS plug diverter valve constructed in compliance with the ATEX Directive for operation in/with ATEX Zones 20 and 22, and for powder classes St1 or St2 with a minimum ignition energy of 3 mJ and an ignition temperature of the deposited powder layer of at least 210°C.
The main construction differences to the non-ATEX VAS plug diverter valve consist of the use of pneumatic and electrical components (connectors, solenoid valves, microswitch box) that are certified for use in potentially explosive atmospheres.