Designed for production of fine powders from materials of medium hardness and abrasiveness. Especially suited for drying and grinding in one operation.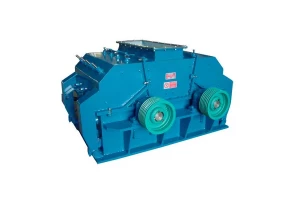 The CIMMA ROTODUE 4M series of hammer mills are designed for the production of powders and fine sands of limestone and dolomite for glass factories, premixed dry mortars, agglomerated floor tiles agglomerated with cement or resins (0÷3 mm/0÷8 mm). They are also used in the grinding of clays for production of roof tiles, bricks, and extruded floor tiles. These machines are designed for simultaneous drying and grinding of wet raw materials with moisture content in the range 4-8% (depending on the raw material), delivering a capacity in the range of 25 to 60 tons per hour.
Technical innovation
The twin-rotor construction of the ROTODUE 4M/4MXP/4GX/4GZ hammer mills delivers the following interesting advantages:
Double the volume of grinding chamber and double the surface of the discharge grate, for a given width of the mill. The capacity of the mill and the throughput of hot gas for drying are, by consequence, increased consistently.
The machine can work at high tip speed.
The mill can be adapted to many different applications, even with relatively abrasive materials, with proper choice of feed opening position and rotor type.
Ideal for production of products 0,5 ÷ 3 mm, depending on installation and working conditions.
The product shape is well-rounded or polyhedral.
Fine grinding of friable (easily crumbled) materials of medium hardness and abrasiveness.
Simultaneous drying and grinding blowing hot gas through the mill.
Strong construction and easy maintenance.
Typical applications
Limestone, marble, calcium carbonate, dolomite: fine powder and sand for production of premixed dry mortars, terrazzo tiles, animal feed, glass industry
Gypsum: pre-grinding before calcining
Plaster: refining for production of plaster of Paris, plaster for ceramic moulds, special plasters
Clay: dry grinding for bricks, roof tiles, dressed floor tiles, abrasives, refractories, ceramic products for recycling in new production
Waste of bricks: red earth for tennis courts, chamotte for ceramic bodies
Kaolin: scraping of pellets of washed kaolin
Waste of industrial products, such as: calcium oxide, hydrated lime, chemical products, horn and nails, petroleum coke, coal, metal alloys
Technical specifications