Viewed from the top, no other free-flow valve offers any more compact overall dimensions.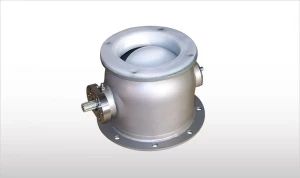 To intercept material flow from bins, hoppers, silos, processing machines, or pneumatic conveying of materials showing poor flowability, the use of a VSS Ball Segment Valve may be the most appropriate choice. VSS Ball Segment Valves can be used in virtually all industries.
VSS-type Ball Segment Valves consist of a carbon or stainless steel casing lined with SINT engineering polymer which acts as a seal. Due to the combination of seal and smooth finishing of the closing segment, which is manufactured from SINT polymer too, the valve is perfectly dust-proof. The closing segment is adjustable in height to re-establish its sealing efficiency after longer operating periods.