The TR Loading Bellows Positioner moves loading bellows horizontally when loading trucks or rail cars.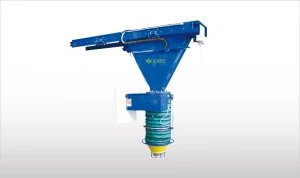 The driver can stop the vehicle in the designated loading area without having to worry about being in the centre of the loading area.
The TR Loading Bellows Positioner consists of a support frame structure with an inlet connecting flange of 300 mm (22") diameter positioned in its centre.
The frame structure supports a motor-driven hopper underneath, which runs on four wheels on tracks in one-axis horizontal direction.
The hopper is provided with a row of nylon brushes all around the inlet edge. The brushes are pressed against the cover acting as a seal against dust leakage.