MLH enables university researchers and R&D staff to test process feasibility quickly and with excellent reproducibility.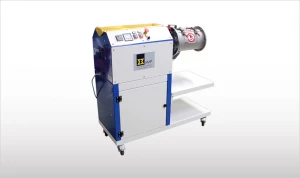 The MLH Laboratory Batch Mixer consists of stand-alone drive unit with incorporated frequency inverter, an easily replaceable horizontal mixing shaft supported at the drive end only, and an easily replaceable, revolving mixing vessel complete with inlet/outlet, as well as an inspection door ensuring free access to all internal parts. Equipped with a variety of mixing tools, the machine produces high quality mixtures which are reproducible over time.
MLH Laboratory Batch Mixers operate on the principle of a mechanically generated fluid bed. Consequently, laboratory results can be transferred to production units. This ensures product and process development required by today's industry. Quick change of drum size combined with a rich basic equipment package ensures use for a variety of applications. In some cases, to obtain the desired mixing effect, a separately driven high-speed chopper can be installed.
MLH is a Laboratory Batch Mixer suitable for applications in the pharmaceutical, food, chemical, biochemical, and powder metallurgy industries.
The MLH is available in three sizes: 6, 12 and 30 litres.